Queen Creek Unified School District Principals Awarded the Exemplary Principal Award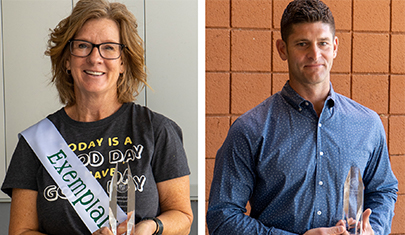 Two Queen Creek Unified School District (QCUSD) principals now hold the prestigious title of exemplary principal from the Maricopa County Superintendent's Office. Maricopa County Superintendent Steve Watson presented the awards to Frances Brandon-Pickett Elementary School Principal Brian Butson and Faith Mather Sosamman Elementary Principal Sherry Towns in a surprise visit on Monday, May 2. Only a handful of principals earn this award out of more than 1,200 in the county for understanding the connection between a thriving school culture and high levels of student achievement and teacher retention.
Award recipients undergo a rigorous evaluation that involves a superintendent nomination, application, teacher survey, video interview, site visit, and extensive data review. Awards are then presented during a surprise event. The criteria they were selected on was based on their ability to:
Actively engage staff, parents, and community members in developing an effective school culture.
Utilize data to guide instruction and decisions regarding staff development.
Consistently demonstrate high teacher retention.
Successfully develop and inspire others.
"It is an honor to recognize Sherry Towns as an exemplary principal," said Watson. "She has collaboratively developed a vision for student success and has created a culture inclusive of both high expectations and abundant support. She believes in the gifts and talents of her students and staff and encourages and empowers them to be the best they can be."
Brian Butson's school received the A+ School of Excellence designation earlier this year.
"He has created a positive and trusting school culture where students and teachers feel personally valued and supported." said Watson. "He is a strong instructional leader who has established a collaborative work environment where teacher autonomy is valued and risk taking is highly encouraged and celebrated."
QCUSD Superintendent Dr. Perry Berry said he is honored to have such dedicated leaders in his schools.
"Students in our district thrive because of the hard work of exceptional personnel like Brian and Sherry who prioritize what's best for students in everything they do," he said.
Queen Creek Unified School District serves nearly 13,000 preschool through twelfth grade students within the Town of Queen Creek and East Mesa, Arizona.